Mortgage (ARM) Indexes
Lagging Index Comparison: MTA, COFI, CODI, COSI
ARM loan rates tied to any of the four lagging indexes rise and fall more slowly than rates in general. However, the MTA and CODI may respond a little more quickly to an upward movement in the 1-Year Treasury rate, as illustrated on our graph.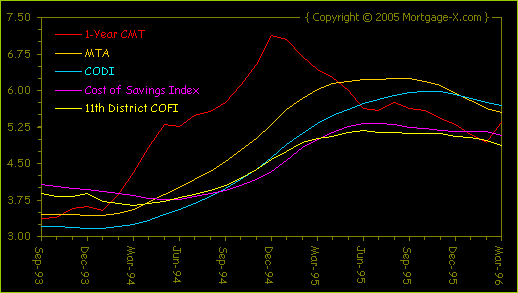 The next graph shows the MTA, COFI, CODI and COSI responses to a change in the 1-Year CMT rate from 6.0% to 2.5%. You can see that the COFI index responds more quickly to the movement in the CMT rate than the COSI index does. The MTA rate is approximately 0.25% higher than the COSI rate, and the CODI is approximately 0.3% higher than the MTA.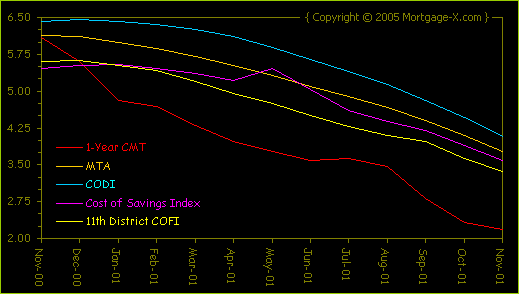 The four graphs below show the dynamics of the four lagging indexes' responses to the decline in the 1-Year CMT from a high of 8.35% in March, 1990, to a low of 3.33% in March, 1993.
---
Interest Rate Forecasting: Economic Indicators | Mortgage Market Survey | Interest Rate Trends
Treasury Market and Mortgage Rates | Historical Mortgage Rate Data | Mortgage Indexes