Mortgage (ARM) Indexes
National Average Contract Mortgage Rate
The index is the weighted average rate of initial mortgage interest rates paid by home buyers reported by a sample of mortgage lenders for loans closed for the last 5 working days of the month*. The weights are determined by the type, size and location of the lender. The rate is based on conventional fixed and adjustable rate mortgages on previously occupied non-farm single-family homes.

The National Average Contract Mortgage Rate is derived from the Federal Housing Finance Board's Monthly Interest Rate Survey (MIRS)** and is reported by the FHFA (Federal Housing Finance Agency) on a monthly basis.

Many lenders use this rate to reset the interest rate on ARMs. In the early 1980s, it was the only index rate that federally chartered savings and loan associations could use as an adjustable rate mortgage index.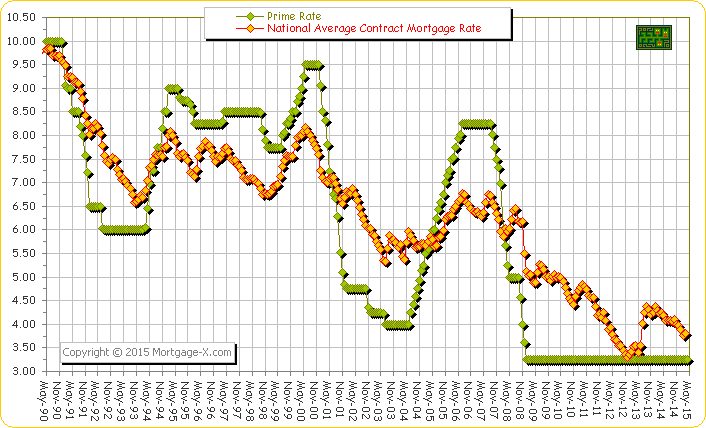 National Average Contract Mortgage Rate vs. Prime Rate, 1992-2014 { Obtaining Permission to Reproduce }
---
Interest Rate Forecasting: Economic Indicators | Mortgage Market Survey | Interest Rate Trends
Treasury Market and Mortgage Rates | Historical Mortgage Rate Data | Mortgage Indexes