Mortgage (ARM) Indexes
12-Month Treasury Average (MTA)
The Monthly Treasury Average, also known as 12-Month Moving Average Treasury index (MAT) is a relatively new ARM index. This index is the 12 month average of the monthly average yields of U.S. Treasury securities adjusted to a constant maturity of one year. It is calculated* by averaging the previous 12 monthly values of the 1-Year CMT.
* The MTA Index is calculated by us monthly at or about 7:00 PM on the last business day of each month using the reported Treasury Yield Curve Rates and is usually published on our website by the first business day of the following month. We calculate the average by adding the 12 most recently published monthly yields together, dividing the result by 12 and rounding it to the nearest 10,000th of one percentage point.
Because this index is an annual average, it is more steady than the 1-Year CMT index. The MTA and CODI indexes generally fluctuates slightly more than the 11th District COFI, although its movements track each other very closely, as illustrated on our historical graph.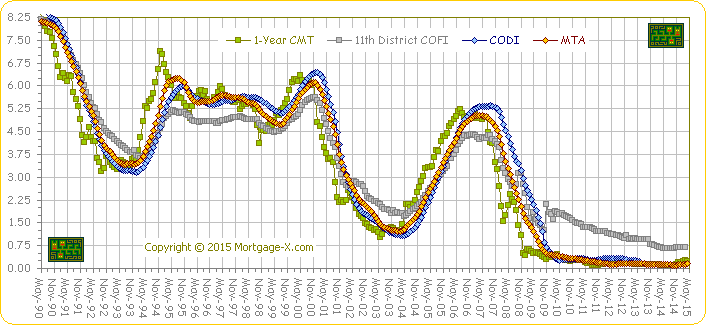 MTA vs. 1-Yr CMT, 11th District COFI, 1992-2014 { Obtaining Permission to Reproduce }
---
Interest Rate Forecasting: Economic Indicators | Mortgage Market Survey | Interest Rate Trends
Treasury Market and Mortgage Rates | Historical Mortgage Rate Data | Mortgage Indexes